A GEMSTONE PERFUMERY
The Sage Lifestyle is home to Sage Machado's Gemstone Perfumery, Luxury Candles and Artisan Jewelry. As a jewelry designer of over 29 years, each perfume is inspired by Sage's passion and love of gemstones. The fragrances embody Sage's California chic lifestyle and are perfect for gypset perfumistas worldwide! All her fragrances are made with love in sunny California, and are vegan, cruelty-free, gluten and nut free, they do not contain parabens or phthalates.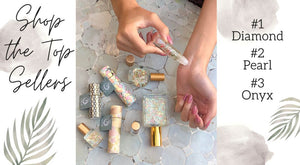 SHOP THE TOP SELLERS - THE SCENTS THAT DRIVE THEM WILD!
"I've only had the pleasure of wearing Diamond and Pearl so far but OH MY GOD! I don't think I'll ever wear another brand. This stuff is pure magic and every time I smell it I am transported to utopia. AND it lasts all day! I can't wait to collect them all! The Sage Lifestyle scents are my deepest obsession." - a 5-star review by Haley
SHOP BEST SELLERS
WHAT'S IN YOUR FRAGRANCE WARDROBE?
Finding your Signature Scent can be challenging. To make this olfactory journey possible, all 21 Gemstone Scents are available in a sample vial so you can see how the perfume works with your personal chemistry!
"Truly the most amazing perfume I have EVER had, and I have tried every perfume out there, period. Sage's scents are a true find and are magical treasures! LOVE!" - a 5-star review
TRY A FRAGRANCE SAMPLE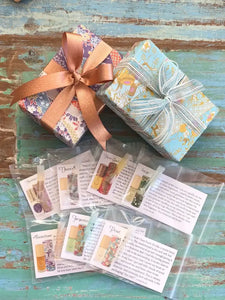 FIND YOUR FRAGRANCE SOULMATE
"I don't think I will ever go back to regular perfume anymore. First of all, I don't even have a favorite, all of these fragrances are simply amazing, they smell like nothing else, and they put me in the best mood. I get so excited when I wake up in the morning and I have to take a shower, and I am trying to decide what fragrance I feel like today. I'm so excited to buy the next amazing scent!!!!" - a glowing review
Discover your signature scent, and enjoy 10% off when you take the quiz.
Take My Perfume Quiz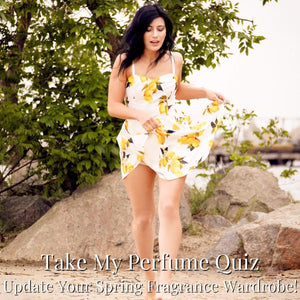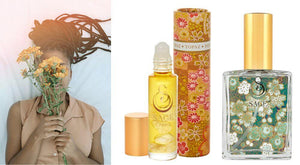 A STEP BY STEP GUIDE TO SAGE'S GEMSTONE PERFUMERY
With 21 scents in the perfumery, our fragrance guide is the perfect way to narrow down your selection and find your fragrance soulmate.
"Your fragrances have truly changed my life. I've been searching for years for something that felt elegant, yet organic, and fresh. They are perfect, and I have found a handful that I can rotate through. Super grateful!" - a glowing review by Sylvia
SHOP THE FRAGRANCE GUIDE
EVOKE YOUR INNER GODDESS
Sage's Vanity Bottles are available in all 21 scents in her Gemstone Perfumery. The bottles are made in France and hand filled with love in sunny California. Each bottle has a handcrafted petite necklace with a gemstone charm to adorn it's matching scent, and boasts glass ground stoppers to evoke your inner goddess each time you apply your gemstone perfume. Available in two decadent sizes - 1/4 oz and 1/2 oz., her vanity bottles are the perfect choice for all perfumistas.
SHOP THE ULTIMATE GIFT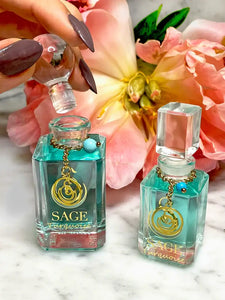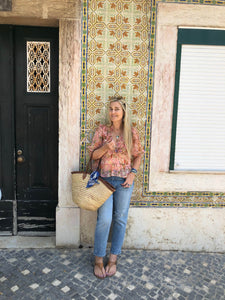 SAGE'S GEMSTONE JOURNEY
Sage is a true California native and beach girl. The daughter of hippies, her unbeatable personal style and artsy, bohemian touch has cemented her place as one of the top purveyors of LA style.
READ MORE
---
When I discovered The Sage Lifestyle, I also found my spirit perfume. The Diamond perfume is fresh, soft and exquisite, and it makes me feel perfectly pretty.
★★★★★
I give Sage products to all my special gal pals whenever I can, there truly is nothing quite as soulful and bespoke as Sage's blends.
★★★★★
My daughter has been receiving your perfumes on all special occasions since she was 16, it's our mother daughter special gift.
★★★★★